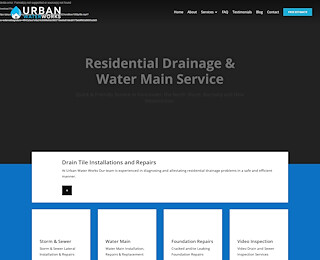 Every fall, plumbers are on the phones with and in the houses of people needing emergency drain repair in Vancouver. What if we told you, however, that there's a way to keep your plumbing in good shape all year round, including the fall and winter months, and not have to frantically find a plumber available at a moment's notice to assist you?
Fortunately, there are some simple things you can do at the start of every colder season to make sure your plumbing stays in good shape throughout the fall and winter. If you haven't done the following precautionary measures yet, now would be a great time to get these things done.
Flush Your Water Heater
A common reason for drain repair in Vancouver has to do with water heaters not being flushed often enough. The colder it is outdoors, the harder your water heater will work inside. To make sure it is running as efficiently as possible, make sure to flush it out once a year to remove the sediment that builds up.
Flushing your water heater is a dual purpose: it will not only run more efficiently if it is flushed out every year, but it will also help you avoid corrosion. This will, in turn, extend the lifespan of your water heater, which may last up to 20 years with proper maintenance.
Know Where the Controls Are
If you do need drain repair in Vancouver, it's critical to have the phone number of a qualified and experienced plumber in your area to come out right away. In the meantime, if you're experiencing a plumbing emergency, make sure you know where your water control areas are.
Your main water shutoff valve may be in front of your house underground. You may have seen a panel in front of your house closer to the street. This is generally a cover that you can lift off and turn the lever to shut off the water to your home. This should usually only be done in extreme situations. Inside your home, the water shut off to any fixture is usually underneath the fixture. A plumber can show you where all the control areas are to the water in your home in case of an emergency.
Schedule an Annual Inspection
One of the biggest reasons that people need drain repair in Vancouver is because they didn't schedule their annual inspection. This is one of the easiest things to do, but it is also one of the most often neglected elements of plumbing maintenance.
The hard truth is that cold weather can be very damaging to your drainage system. With ice damming and frozen pipes happening in houses all over the world the moment the weather turns crisp, having a plumber come out and give your plumbing system the green light is infinitely helpful.
Incorporating the above tasks into your preparations for the colder months of the year will go a long way to help you save money and hassle on otherwise avoidable drain repair in Vancouver. These things are not difficult to do, and any homeowner would be capable of them. You'll be happy you did!
Contact Urban Water Works today!
Drain Repairs can be Difficult, Call Urban Water Works to Help!